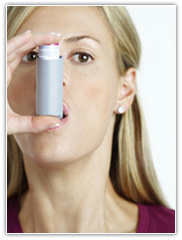 Asthma is a chronic inflammatory condition of the airways. This inflammation causes the airways to narrow and fill with inflammatory mucous, which leads to shortness of breath, chest tightness, and often, chronic cough. By utilizing their advanced knowledge about asthma and its treatments, our physicians are able to accurately diagnose your disease and help you manage your symptoms. They understand that symptoms can vary with age, season, environment, diet, and even stress. Through one-on-one education, our physicians want to empower you to take control of your disease and live your best life possible!
Our Board Certified physicians are well versed in a variety of asthma medications and treatments that are meant to help you control and prevent your symptoms. Some types of medications we prescribe include:
Inhaled Steroids
Leukotriene Blockers
Beta-agonists
Anticholinergics
Oral Steriods
For additional asthma information, further explanation about asthma medication, and Frequently Asked Questions(FAQ), you can review our Asthma FAQ by clicking here.
Treatment Options
The most important thing you can do to control asthma severity is to take your controller medication every day as instructed by your doctor.
Avoid the asthma triggers that may be causing the symptoms
Learn to recognize the early warning signs
Check your peak flow and follow the Asthma Management Plan that your allergist provided to you.