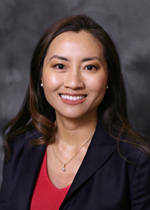 Dr. Tsai can be seen at this location
---
Broomfield
340 E 1st Ave, Ste 100
Broomfield, CO 80020
Phone: (303) 428-6089
Fax: (303) 412-2141
Schedule your appointment online now
During the COVID-19 pandemic, if you are 65 years and over, please call the office to schedule your visit.
Dr. Katherine Tsai joined Colorado Allergy and Asthma Centers in July 2009. She is board certified by the American Board of Allergy and Immunology.
She received her bachelor's degree from University of California Irvine and Doctor of Medicine from Washington University in St. Louis School of Medicine. Internship and residency training was completed at Washington University in St. Louis. After internal medicine residency, she was a hospitalist at Barnes Jewish Hospital. Continuing at Washington University, she completed Allergy and Immunology fellowship training in June 2009.
Excellence in allergy and asthma care with compassion and respect is Dr. Tsai's treatment philosophy. Her goal is to help patients control their allergy and asthma symptoms and improve their quality of life.