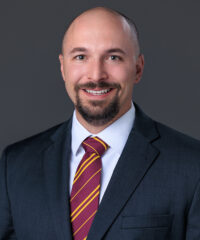 Dr. Chad M. Lomas joined Colorado Allergy and Asthma Centers in 2022. He is board certified by the American Board of Allergy and Immunology.
Dr. Lomas received his bachelor's degree in Chemistry from Creighton University in Omaha, Nebraska where he also received his medical degree at Creighton University School of Medicine. Dr. Lomas completed his pediatric residency at the Naval Medical Center San Diego in San Diego, California. He then served 4 years as a general pediatrician on active duty in the United States Navy at the Naval Hospital in Pensacola, Florida. Dr. Lomas completed his allergy and immunology fellowship at National Jewish Health in Denver, Colorado.
Dr. Lomas believes that to be an effective healthcare provider, the best approach is to work together as a team.  He emphasizes evidence-based medicine and has a special interest in understanding the immunological pathways underlying allergic disease.
Dr. Lomas lives in Centennial with his wife and three children. Both he and his wife grew up in Colorado. Dr. Lomas attended Regis Jesuit High School and is excited to be part of the Centennial community. He enjoys outdoor activities, spending time with family, and being an active member of his parish.
Schedule an Appointment with Chad M. Lomas, MD
---
IMPORTANT PLEASE READ: If you are a new patient or require testing, please stay off antihistamines for 7 days prior to your appointment. Also, if you are an established patient but have not been seen for over 3 years, you will need to schedule a New Patient Appointment.