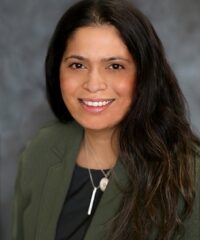 Dr. Shaila Gogate joined Colorado Allergy & Asthma Centers in 2014. She is board certified by the American board of Allergy & Immunology.
Dr. Gogate received her bachelor's degree in Chemistry from Colgate University in Hamilton, NY. She finished her medical school education at Chicago Medical School and her internal medicine residency at Washington University, Barnes-Jewish Hospital in St. Louis, MO. She completed her allergy and immunology fellowship at National Jewish Health in Denver and remained on faculty after fellowship.
Dr. Gogate is an Assistant Professor of Clinical Medicine at the University of Colorado where she teaches concepts in the field of Allergy and Immunology to doctors in training at the medical school. She also has extensive clinical research experience and heads the Denver Clinical Research Center for CAAC.
Dr. Gogate believes that communication between providers and patients is essential in order to develop the best possible treatment plan. She feels it is important to incorporate current scientific evidence with a patient's preferences.
Dr. Gogate lives in Stapleton with her husband and two children and enjoys running, hiking and traveling.
Schedule an Appointment with Shaila U. Gogate, MD
---
IMPORTANT PLEASE READ: If you are a new patient or require testing, please stay off antihistamines for 7 days prior to your appointment. Also, if you are an established patient but have not been seen for over 3 years, you will need to schedule a New Patient Appointment.