Flu Vaccines
The timing and length of the flu season varies from year to year. Typically, flu activity increases in October and peaks between December to February and can last until the end of May.
The Centers for Disease Control and Prevention (CDC) recommend the flu vaccine as the first and most important step in protecting against the flu. It is the best way to reduce the chances that you will get seasonal flu and lessen the chance that you will spread it to others. When more people are vaccinated, less flu can spread through the community.
Flu vaccination reduces flu-related illnesses, doctor's visits and missed days of work or school from the flu. Vaccination to the flu can also decrease or prevent flu-related hospitalizations.
Colorado Allergy & Asthma Centers, following the guidelines of the CDC, strongly encourages the flu vaccination this current season.
The standard flu vaccine is recommended for:
Everyone 6 months of age and older
Pregnant women
Patients with asthma
Anyone with a weakened immune system (i.e., if you are on long-term steroids)
Patients with egg allergy can safely receive the flu vaccine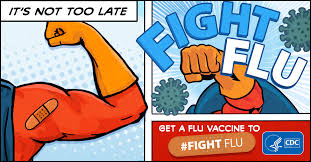 For additional resources, please also visit:
Center of Disease Control and Prevention website at: https://www.cdc.gov/Flu/Index.htm
FLU SCHEDULE FOR EACH CLINIC
We will be administering the flu vaccine with your allergy shot or during an office visit. Walk-ins are welcome before 3pm. If this does not work for your schedule, we encourage you to contact your Primary Care Physician or local pharmacy.