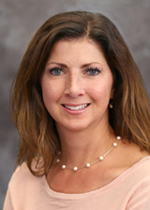 Ms. Mezo received her undergraduate degree from Colorado State University, where she majored in Exercise and Sport Science with a concentration in Sports Medicine and a minor in Anatomy and Neurobiology. She received her Physician Assistant degree from George Washington University in Washington, D.C. and her Master's degree from the University of Nebraska.
Physician Assistants are trained to take care of a variety of diseases under the supervision of a physician. They are required to take a national certification exam every six years, and to accumulate many hours of continuing education credits every year. Nicole works very closely with our physicians to assure that Colorado Allergy and Asthma Centers patients are taken care of in the finest manner possible.
Ms. Mezo strongly believes in educating patients about their disease process. She feels that if patients take control of their health management, they can enjoy normal, everyday activities.