Robert Aaron
Robert (Robby) is a 2011 graduate of Lakewood High School and will be attending the University of Washington in Seattle. Robby will study Aeronautic/Astronautic Engineering or Mechanical Engineering. This past April, he received the distinct privilege to fly on behalf of NASA on the Zero Gravity Flight. He enjoyed many varsity sports while in high school-Lacrosse was by far his favorite.

Laura Corlin
In 2009, Laura graduated from Littleton High School with her International Baccalaureate Diploma. She was a leader in National Honor Society, LINK, International Affairs Club and the Debate Team. She currently is studying Community Health and Biopsychology at Tufts University. Laura is involved in starting a global health organization. Her research has focused on Asthma and the Effects of Environmental Toxins. Laura hopes to attend medical school and earn her Masters in Public Health.

Kaylee Lindahl
Kaylee graduated from Chaparral High School as an AP Scholar involved in National Honor Society, National Chinese Honor Society, Thespian Honor Society and Music Honor Society. She went to China twice as an exchange student and stayed with non-English speaking families. She was awarded the Foreign Language Student of the Year and also received the department award for Chinese. She will attend Brigham Young University-Hawaii, and plans to combine her passions of music and Chinese by majoring in teaching English as a second language so that one day she may be able to teach English as well as music in the schools of China.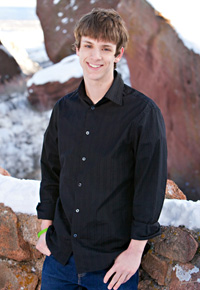 Lyle Sisson
Lyle graduated from Arvada West High School. He plans on attending the Colorado School of Mines majoring in Engineering Physics and then going on to pursue a Masters Degree in Nanotechnology. In high school, Lyle was involved in the music programs and varsity swim team. For the last two years, Lyle has volunteered to host St. Baldrick's events in memory of his brother. These events raise money and awareness for childhood cancer.