PRESS RELEASE FOR IMMEDIATE RELEASE
Contact: Wendy Broome – (720) 858-7449 Voice – (720) 858-7605 Fax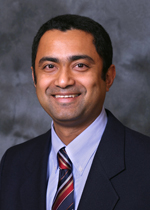 Dr. Manujendra (Manu) Ray Joins Colorado Allergy and Asthma Centers, P.C.
August, 2013 – Colorado Allergy and Asthma Centers welcomes Dr. Manujendra Ray to their team of 12 physicians.
Colorado Allergy and Asthma Centers has 10 locations in and around the Denver area. Dr. Ray is available to evaluate and treat patients at CAAC's Castle Rock, Highlands Ranch and Lakewood locations. He is board certified in Internal Medicine and will soon be certified in Allergy and Immunology.
Dr. Ray received his Medical degree from Kasturba Medical College at Manipal University in India. His interest in the immune system led him to the Pennsylvania State University where he received his PhD in Immunobiology. He subsequently returned to the realm of clinical medicine and completed his residency in Internal Medicine at Akron General Medical Center in Akron, Ohio and a fellowship in Allergy and Immunology at the Hospital of the University of Pennsylvania in Philadelphia. As a part of his fellowship he also trained at the Children's Hospital of Philadelphia (CHOP).
Dr. Ray is a member of the American Academy of Allergy, Asthma and Immunology and the American College of Allergy, Asthma and Immunology. He served as Clinical Instructor of Internal Medicine at Northeastern Ohio Universities College of Medicine (now NEOMED) from 2009 to 2011 and has been recognized for excellence in teaching. He brings with him extensive research experience and is published in numerous peer-reviewed journals. At the University of Pennsylvania he trained under some of the leading experts in the fields of Allergy and Immune deficiency.
Click here for Dr. Ray's full bio
Category: Uncategorized