Influenza, or the "flu", is a contagious, respiratory viral illness that can infect the nose, lungs and affect multiple organs. Symptoms of the flu can come on rapidly and can include fever, cough, sore throat, runny or stuffy nose, body aches, fatigue and stomach upset. Complications of the flu can include pneumonia, other infections, and worsening of other medical problems including asthma. Because upwards of 11% of the population will become sick from the flu each year, and because the best way to prevent getting the flu is by getting a flu vaccine, we encourage all individuals older than six months of age to get a flu shot this fall.
Flu Shot 101
The flu vaccine is updated annually to include circulating strains of the virus to offer best protection. Common misconceptions about the flu vaccine are that you can get sick from the vaccine itself or that a natural immunity to the flu is better than getting a vaccine. These myths have been dispelled, and in fact many people end up hospitalized from the flu every year when their disease severity could have been lessened by getting a flu vaccine.
While getting the flu vaccine can help reduce the chances that you will become sick from the flu, you will also in-turn protect other high risk individuals around you by getting the flu vaccine. Other ways to keep yourself healthy this fall and avoid the flu and other viruses include: wearing your mask, washing your hands frequently, and avoiding large gatherings.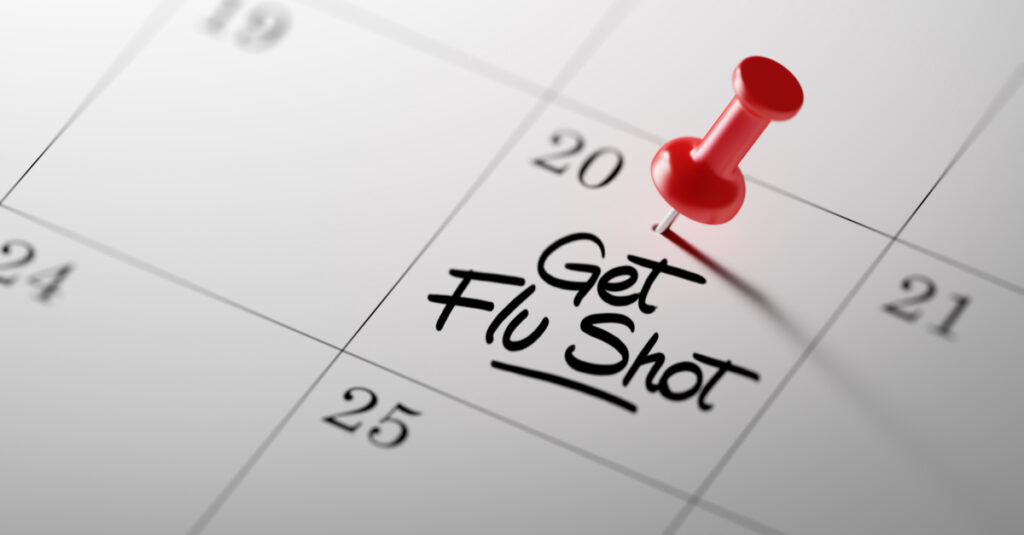 Flu Vaccine & COVID-19
This year, in the midst of the pandemic, it is more important than ever to get your flu vaccine. COVID-19, influenza, and other viruses will be circulating and spreading over the next several months. While getting the flu vaccine will not directly prevent illness from COVID-19, it will reduce the potential for hospitalization and/or illness due to influenza and reduce the chance that you could become infected with both viruses. Lastly, healthcare systems may become overwhelmed treating patients with flu, COVID-19, and other viruses this year, and by getting a flu vaccine and keeping yourself and others healthy, you can help preserve these resources.
Category: Uncategorized