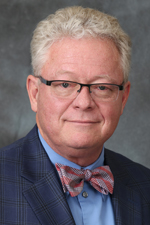 Dr. Olson can be seen at these locations
---
Lakewood
1667 Cole Blvd
Bldg 19, Ste 200
Lakewood, CO 80401
Phone: (303) 420-3131
Fax: (303) 420-1984
Schedule your appointment online now
During the COVID-19 pandemic, if you are 65 years and over, please call the office to schedule your visit.
Dr. Grant Olson joined Colorado Allergy and Asthma Centers in 1996 after four years in private practice on the Lutheran Medical Center campus. He is certified by the American Board of Pediatrics and the American Board of Allergy and Immunology.
Dr. Olson received his Bachelor's Degree from Colorado College and Doctor of Medicine from the University of Colorado School of Medicine. He completed his pediatric residency and fellowship training in allergy and immunology at Fitzsimons Army Medical Center. Dr. Olson served as Chief of Allergy and Immunizations and Medical Director of Respiratory Therapy Services at Fort Hood in Texas. He also served as President of Colorado Allergy and Asthma Society from 2000-2002.
Dr. Olson is an advocate of patients rights and believes the patient and the patient's family are integral parts of the therapeutic team who must be intimately involved in treatment decisions and active in patient care. Dr. Olson enjoys the opportunities available through the practice of allergy and clinical immunology for patient education, cutting-edge research and improving the quality of life for patients.