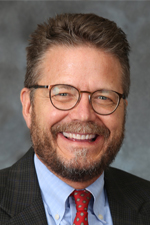 Dr. James can be seen at this location
---
Fort Collins
2014 Caribou Dr, Ste 200
Fort Collins, CO 80525
Phone: (970) 221-1681
Fax: (970) 221-0948
---
Schedule your appointment online now
During the COVID-19 pandemic, if you are 65 years and over, please call the office to schedule your visit.
Dr. John James joined Colorado Allergy and Asthma Centers in 1997. He is board certified by the American Board of Allergy and Immunology. Dr. James lives in Fort Collins, Colorado and is available to evaluate patients in Northern Colorado and surrounding communities. In addition to the diagnosis and management of allergic diseases and asthma, Dr. James has a special interest in food allergy, atopic dermatitis, and anaphylaxis.
Dr. James received his Doctor of Medicine degree from the University of Tennessee in Memphis and completed his pediatric residency at the University of Utah in Salt Lake City, UT. He fulfilled an Allergy and Immunology fellowship at Johns Hopkins University in Baltimore, MD. Before joining Colorado and Allergy and Asthma Centers, Dr. James was a medical school faculty member for four years at the University of Arkansas in Little Rock in the Division of Allergy and Immunology.
Currently, Dr. James serves on the Board of Directors of the American Board of Allergy and Immunology where he serves as the Chair of the Maintenance of Certification Committee. He is the medical director of the Parents of Asthmatic and Allergic Children support group for asthmatic and allergic children in Northern Colorado. In addition, he serves on the Poudre School District Food Allergy Task Force in Fort Collins. Dr. James is an active committee member of the American Academy of Allergy, Asthma and Immunology and he is on a national committee of the American Academy of Pediatrics that plans and organizes Allergy, Immunology and Pulmonary programs for their annual meeting. In 2011, Dr. James co-authored a Food Allergy publication, entitled "Food Allergy: Expert Consult Basic". This book can be purchased in hardcover or kindle editions at Amazon.com and other online book retailers.