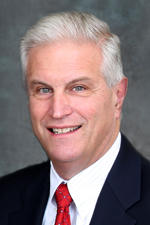 Dr. Greos can be seen at this location
---
Centennial
13111 E Briarwood Ave
Ste 340
Centennial, CO 80112
Phone: (303) 632-3694
Fax: (303) 632-3692
---
Schedule your appointment online now
During the COVID-19 pandemic, if you are 65 years and over, please call the office to schedule your visit.
Dr. Leon Greos joined Colorado Allergy and Asthma Centers in 1993. He is certified by the American Board of Allergy and Immunology. Dr. Greos emphasizes prevention of allergy symptoms through identification of triggers, patient education and rational use of preventive medicine.
Dr. Greos received his bachelor's degree from Amherst College and doctor of medicine from the University of Southern California School of Medicine. Following his internship and residency at the University of Washington, Dr. Greos completed fellowships in pediatrics and allergy and clinical immunology at National Jewish Center for Immunology and Respiratory Medicine. Dr. Greos entered private practice in Sacramento, California before returning to Colorado to join our group.
The most stimulating aspect of allergy and asthma care, according to Dr. Greos, is attempting to discover the particular pattern of each patient's condition and effective care.