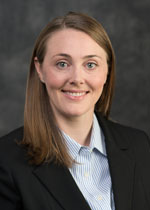 Dr. Jones joined Colorado Allergy and Asthma Centers in 2016. She is board certified by the American Board of Allergy and Immunology and the American Board of Pediatrics.
She completed a fellowship in Allergy and Clinical Immunology at National Jewish Health in Denver, Colorado. She is an active member of the Colorado Allergy and Asthma Society, American Academy of Allergy, Asthma and Immunology and the American College of Allergy, Asthma and Immunology.
Dr. Jones is a Colorado native and graduated from Colorado State University with a degree in biochemistry. She earned her medical degree from the Medical College of Wisconsin and completed residency at Phoenix Children's Hospital.
She believes in careful listening, compassionate care, and practicing evidence based medicine. She strives to form a partnership with her patients in order to determine the best individualized treatment plan and improve their quality of life.
When she isn't working, Dr. Jones enjoys spending time with her husband and two children.  She plays tennis and enjoys cheering for the Broncos.
Schedule an Appointment with Andrea L. Jones, MD
---
IMPORTANT PLEASE READ: If you are a new patient or require testing, please stay off antihistamines for 7 days prior to your appointment. Also, if you are an established patient but have not been seen for over 3 years, you will need to schedule a New Patient Appointment.