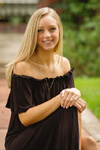 Abigail Kay Cole
Abigail graduated with Honors from Grandview High School. She will be attending the University of Colorado-Boulder where she will study Marketing with a minor in Spanish at the Leeds School of Business. She has always had a passion for volunteering and through National Honor Society, has been leading as a Senior Appointed Officer of the Student Body in Student Government. In high school, she enjoyed being a teammate playing competitive volleyball and working with others competing in Future Business Leaders of America and Technology Student Association. At CU – Boulder, Abby aspires to continue volunteering and to touch the lives of people she encounters.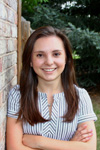 Anne Josephine Kristopeit
Anne graduated from Arapahoe High School in May. While attending, she was an active member of her community as seen by her volunteering as a peer leader for the middle school and high school programs offered by her youth group. Anne was also a Link Crew leader for freshmen and new students coming to Arapahoe High School. She volunteered at Littleton Adventist Hospital in the Pediatric and Family Emergency Care Unit and traveled to the Dominican Republic to help set up a medical brigade for those who do not have access to proper healthcare. Anne is planning to attend the University of Northern Colorado this fall to study nursing. Her long term goal is to become a Pediatric Nurse Practitioner.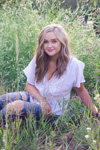 Anna Elizabeth Lemons
Anna graduated with highest honors from Highlands Ranch High School in May of 2018. In high school, she was junior class president, tennis team captain, and a team member on four mission trips with Grace Presbyterian Church. She enjoys yoga, spinning, and anything outdoors in our beautiful Colorado mountains. Dr. Greos has cared for Anna since she was a toddler and she appreciates his help in keeping her healthy and allowing her to live her best life. Anna will be attending Wake Forest University in North Carolina and plans to study business and political science.