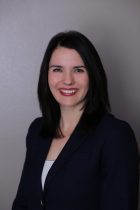 Colorado Allergy & Asthma Centers, P.C. (CAAC) recently announced they will be adding another physician to their roster. Kara Crosby, DO joined CAAC in April of 2018 and has begun practicing at their Highlands Ranch location.
Dr. Crosby is passionate about providing high quality care to her patients. She believes in evidence based medicine with a patient centered approach. She employs thoughtful listening and communication to thoroughly understand the needs of the individual patient.
"Dr. Crosby comes to us with a wealth of experience in the private practice arena and a very distinguished academic resume. She is board-certified in pediatric and adult allergy/immunology, and is excited to share with our patients the latest treatments for the allergic diseases they face. With the population and growth explosion of Denver and its surrounding areas, CAAC has strived to keep pace by adding convenient locations staffed by impeccably trained board-certified allergists.  In the last three years we have added five new physicians to the practice, which we feel sets the table for another 45 years of serving the community." says Mark Ebadi, M.D., President of Colorado Allergy & Asthma Centers.
Dr. Crosby received her bachelor's degree in biology from Ohio University and completed her medical school education at Lake Erie College of Osteopathic Medicine. She trained in pediatrics at Akron Children's Hospital and in allergy and immunology at the University at Buffalo.
Dr. Crosby lives in Denver with her husband and son. She enjoys hiking, biking, reading, and traveling.
Prospective patients interested in learning more can visit www.coloradoallergy.com