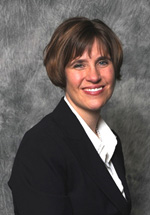 Heidi Bailey received her Bachelor of Arts in Human Biology at the University of Northern Colorado. She received both her Physician Assistant/Child Health Associate Certificate and Master's Degree from the University of Colorado Health Science Center. She worked in medical research and development. Heidi has enjoyed working in allergy since 2007. She is an allied health member of the American Academy of Allergy, Asthma and Immunology and the American College of Allergy, Asthma and Immunology and has presented to the allied health at both venues on integrated medicine in allergy and asthma with Dr. William Silvers. And she has also published articles in peer-reviewed journals.
Heidi enjoys partnering with both adults and children in caring for their asthma and allergic disorders. Communication and understanding are important for living well with allergies and asthma.
Heidi is a Colorado native and loves spending time with her husband and four children in the beautiful outdoors.